Best known for his paintings of landscape and people in the industrial towns of North England, Lawrence Stephen Lowry (1887-1976) sheds new light on works included in "Lowry and the Painting of Modern Life", a major exhibition by the artist at Tate Britain until October 26th. Co-curators TJ Clark and Anne M. Wagner argue that Lowry was the pre-eminent British painter of London during the Industrial age in the first half of the 20th century.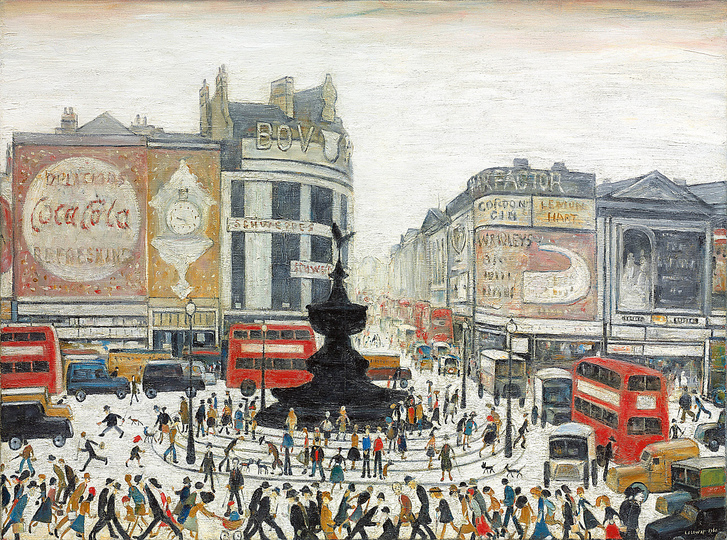 L S Lowry, Piccadilly Circus, London, 1960 Private collection © The Estate of LS Lowry © Christie's Images Limited / The Bridgeman Art Library. Lowry was a frequent visitor to a number of places in London, including Piccadilly Circus.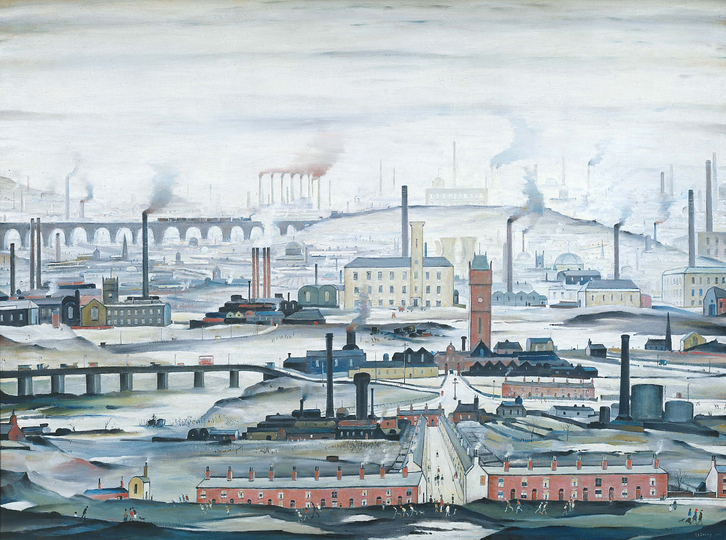 L.S. Lowry, Industrial Landscape, 1955, Oil on canvas Presented by the Trustees of the Chantrey Bequest 1956 © The estate of L.S. Lowry. This picture "Industrial Landscape, Wigan" painted in 1925, could be an illustration to George Orwell's book "The Road to Wigan Pier", 1937; both text and image present apocalyptic scenes of polluted canals and derelict buildings. This picture is typical of the panoramic cityscapes that Lowry painted throughout his career. Although it is an imaginary composition, elements of the view are recognisable as real places. For example, the Stockport Viaduct, which constantly haunted the artist, can be seen in the top left of the picture. But on the whole the image presents a generalised impression of the urban environment, dominated by smoking chimneys, factories, roads, bridges and industrial wasteland. As if to emphasise the human presence in this overwhelming, blackened city, Lowry focuses in on a small street in the foreground, almost inviting the viewer.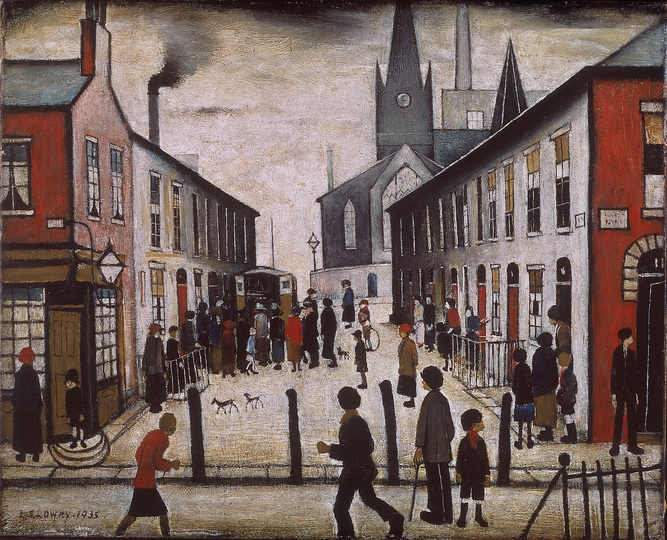 L.S. Lowry, The Fever Van, 1935 Courtesy of Walker Art Gallery (Liverpool, UK). LS Lowry is best known for his 'matchstick men and women', paintings of people in the industrial towns of the north of England. He grew up in Stretford, now a suburb of Manchester. Most of his work portrays desolate urban landscapes peopled by anonymous figures. 'The Fever Van' is one of the many views of Salford painted by Lowry. It is, however, a distinctive work. While most of his paintings of the urban scene are predominantly atmospheric, here there is a story at the heart of the picture. An ambulance has drawn up outside a house to collect a fever patient. Lowry has chosen to show the scene from a distance, as if he is trying to suggest that such events are part of every day life in the town. The painting conveys the pain and suffering of not just the victim, but of the community as a whole.